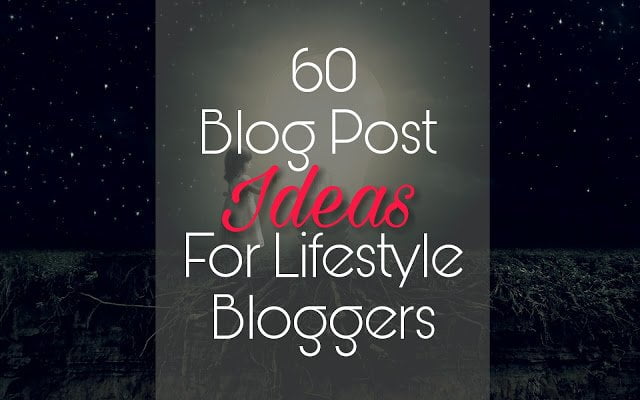 Sometimes, it takes less than 10 minutes to
Start a new blog;
but generating contents often turn out more challenging than expected. Lack of blog post ideas for your blog may leave it hanging without updates for a long period. This can affect its health and engagement.
Being a lifestyle blogger opens doors to numerous chances of exploring the world and blogging about various topics most individuals find interesting.
Despite the large number of lifestyle blog post ideas available online, many bloggers still encounter writers block and struggle with generating perfect lifestyle blog post ideas. Sometimes, you feel you've written all that is left to write! But the world is definitely too large for that to happen. Besides, every day is a new day for emerging blog ideas. You don't know the amount of blog post ideas your activities and experiences today can give birth to tomorrow!
Below is a list of possible lifestyle blog post ideas
Listed in no order;
1. Share a horrible experience with a product.
2. Blog posts you admire from other bloggers
3. A product with great review you'd love to use.
4. Beautiful places around the world you'd love to visit.
5. If you've got a good number of followers on Instagram, let your readers know your strategy
6. The hardest part of your blogging profession.
7. Share a dream you'd love to actualize
8. A virtual world is great, take your readers on a journey to your fantasized world.
9. Every blogger has a blogging hack, sharing your logging tips won't hurt a bit.
10. Share the lessons you've learnt from your blogging mistakes.
11. Share your daily blogging routine.
12. Juxtapose your make-up free pictures with the opposite.
13. Draw up a monthly blogging plan each month.
14. Share your best beauty tips and hacks.
15. If you love novels, recommend the best of all you've read to your blog readers
16. Review a book you've read.
17. Share a list of your best YouTube channels and why they'd be worth your reader's time.
18. Let your readers know more about you. Share something funny and crazy about you…
19. Talk about your blog design and why you chose it.
20. If you are an affiliate marketer, pick products you are familiar with then write a review.
21. Let your readers know why some blogging tutorials aren't worth the struggle.
22. Share your money-making strategy, whether online or offline.
23. Share your challenges of being extroverted or introverted.
24. Let your readers know which country you'd love to live in with your family and why.
25. Start a 30-day challenge you can finish (started one, never finished it!).
26. Interview a fellow blogger who's been successful with his/her blogging career.
27. Share the craziest scene of a movie you've watched.
28. Share a scary aftermath of watching a horror movie.
29. Let your bloggers know your likes and dislikes as well as how you cope with people with dissimilar qualities.
30. Share a life changing experience.
31. If you've had and overcame a psychological problem, write about your struggles and how you scaled through.
32. Write about your several New year resolutions that you never worked towards actualizing.
33. Start a weekly routine of answering questions from your blog readers. Create a section of your blog where questions are posted to you from your readers and a specific DAT for attending to and posting answers to such questions.
34. Write about a celebrity worthy of being called a role model
35. Write about specific countries you'd love to visit for their tourist centres.
36. Share your best blogging tools you'd recommend to your blog readers.
37. Write about your best and worst travel experiences.
38. Share with your readers why you love or/and hate your current location.
39. Juxtapose your worst and greatest day.
40. Share a real life crazy experience and lessons to be learnt.
41. Describe your ideal job and why you'll deserve it.
42. Share with your readers how you manage blogging alongside your school activities or job if any.
43. Share with your readers how you started your blog and why.
44. Write about various blogs you recommended your blog readers to follow and tell them why they are worth following.
45. Share with your readers your top smart phones applications you have, use and cannot do without.
46. Send a shout out to your most active blog readers (user comments are great ways to discover this) and encourage others by giving them something great.
47. Support or oppose an article you've read that's largely related to your blog.
48. Share the unusual fashion sense you've seen, either in public or online.
49. If you've learnt something new, share with your reader what you've learnt and how difficult or simple it was to learn.
50. Share an outfit of the day and why you love them.
51. There are lots of quotes online, share with your readers your favourite quotes.
52. Share your blogging income report if you've got one. This could turn out to be a monthly routine.
53. Interview someone who inspires you and let your readers know why they inspire you.
54. Write about your role models and share with your bloggers what you've learnt from them over the years.
55. Share with your readers the amazing ways you have managed to encourage yourself.
56. Share with your readers your favourite food or recipe and why they are worth trying.
57. Start a fun challenge and let your blog audience participate in it as a prize gift.
58. Take a blast back to the past and share something spectacular capable of making an average blog reader nostalgic.
59. Share your favourite YouTube channels and let your audience know why they'd get glued than expected.
60. Share the amazing ways you promote your latest blog posts and which technique works best for you.
I hope you love this list of possible lifestyle blog post ideas.