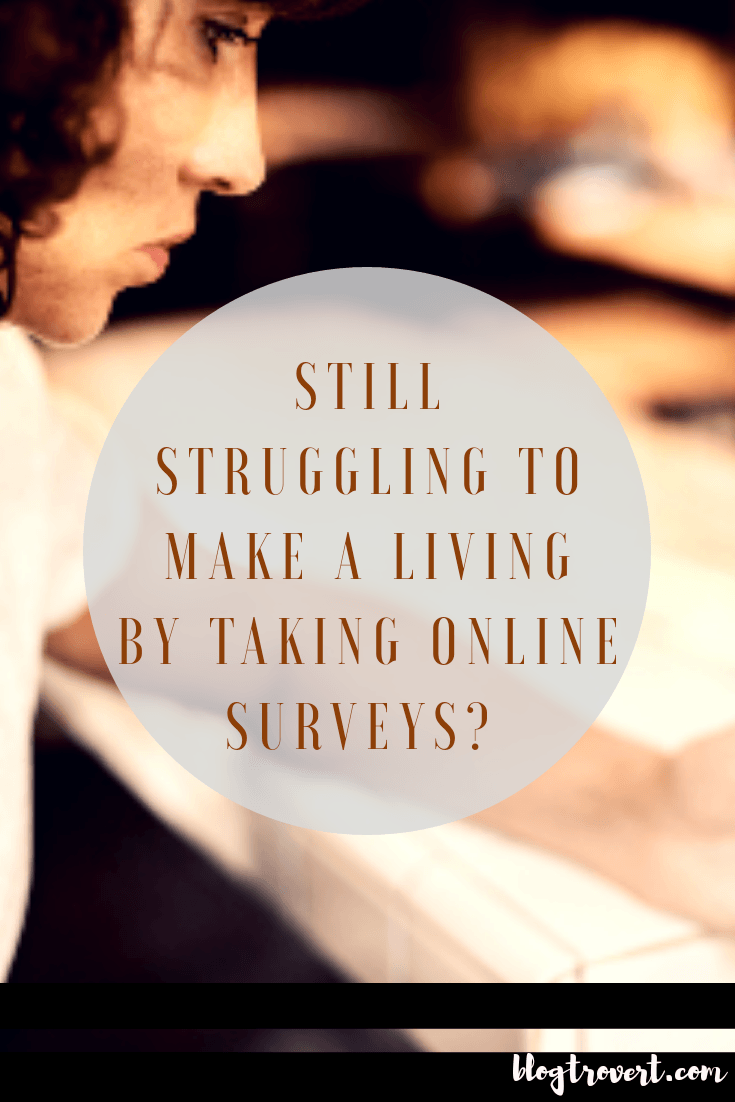 Still in Search of How to Make Money With Online With Survey sites in Nigeria?
So, I'm currently dusting myself off the fact that I participated in paid surveys and kept on trying to get into more survey sites. These acclaimed paid survey sites in Nigeria not only wasted my time, but also shattered every atom of sanity I had.
Indeed, taking part in surveys for cash is one of the many ways people make money online from home. Paid surveys enable people to earn money by answering simple questions provided to them by survey sites on behalf of companies, vendors and businesses.
But the question is;
Are they worth it?
Survey Sites? What Are Surveys?
Surveys are set up for different purposes and can differ from each other depending on the goal of the research. Companies or business owners usually use data from surveys to evaluate their product and services or gather information about customers' habits and needs. The information gathered is then used to work on the needs of the market and improve on products or services offered to people.
The Truth About Survey Sites
I'm wondering,
How much have you made through the years by participating in paid survey sites?
Responses may differ, largely due to the location of the respondents.
Here is something you should know;
There are countries that enjoy taking part in online surveys. It is totally amazing if you live in such a country. It's a different ball game if you aren't in any of them. If you are in the US, Canada, UK, and some others.
I would be surprised to realize that you have never made any reasonable amount of money from taking paid online surveys. It is easier to get paid survey opportunities in the aforementioned countries because most vendors and business owners often look for people and users in those locations.
Are there Paid Survey Sites In Nigeria?
Yes, there are paid survey sites in Nigeria that claim to pay. In fact, you can join these websites. But then you will end up being disappointed as these acclaimed survey sites that promise to pay Nigerians only deliver surveys you may never qualify to take part in. We are like space fillers.
Some time ago, while looking for survey sites to join, I discovered that some websites advertised that there are paid survey sites targeting Nigerians. Oh well, I was glad to realize that we can start making money by answering surveys. But then it turned out that they weren't at all worth it. I got tired of getting notified of available surveys that I almost never qualify to answer.
Do These Paid Survey Sites In Nigeria Pay?
Recently, I noticed a few acclaimed survey sites in Nigeria like afrisight and triaba that have been niched down for Nigeria and a few other African countries. One notable feature of these survey sites is their affiliation with Cint, an insight exchange company. These aren't stand-alone companies/sites and the surveys curated for you are originally from Cint. So, there is a chance that you may not qualify for those cute surveys that get sent to your mailbox.
After more than a year on Afrisight, I could only boast of $7 in earnings, which I never got to fully cash out due to the cunning lies and scam of the platform.
I'm not trying to discourage you from participating in online surveys sites that I claim to pay Nigerians. I have to be frank with you; these survey programs Do Not Favour Nigerians, especially when it's time to get paid, that's if you managed to participate in surveys. So, don't end up wasting so much time with surveys while you search for genuine ways to make money online.
Is Afrisight and Triaba Legit
Earlier, I made mention of afrisight and triaba. If you need answers to whether this survey site that targets Nigerians is legit or scam, then my answer is: YES, AFRISIGHT and TRIABA IS LEGIT. But being legit does not make this platform worth your time or stress.
I have been on one of these platforms for over a year and have only qualified for and completed one survey, my first attempt. For me, afrsight and triaba are not scams but time wasters.
Should You Try Afrisight And Triaba? My Review
Personally, I would say no, don't! If you must, I advise that you choose any of the above to join as they are both affiliated with the same company, 'Cint' and the same surveys are sent out on both platforms. I cannot tell if you can qualify for the same survey twice.
Also, if you want to try any of these survey sites, ensure that you create for yourself a PayPal account that can receive funds. I am pretty sure you know that Nigerians can't accept payments on PayPal yet.
Update: Avoid Afrisight at All Cost
Afrisight turned out to be just another petty time waster. An obvious scam. Besides, the PayPal option doesn't function, and they will not pay you all you've earned. While they promised full payment on cash out, I only got a quarter of what I earned on the platform. This happened after I mailed them to send my earnings as airtime since there was no way to withdraw directly from the platform.
I do not want you to go waste your time for a month or more only to get bits of what you laboured for. The customer care agent I contacted lied to me that they were sending out payment in batches. Well, you guessed right, I never received more airtime after the first. I earned a total of $7 and received only $2 as airtime. Please, this is a big-time waster! $7 in months!
If you really want to make a few bucks online in Nigeria, I suggest that you take part in capterra paid reviews to earn up to $150.
What About Other Platforms I Saw Online?
Honestly do not waste your time. Data is expensive now and you'll only be spending money you won't replace. All these self-proclaimed survey sites in Nigeria have surveys that do not fit into our demographic location. So, stop thinking of how to make money through online surveys in Nigeria.
Other platforms like The Panel Station, SurveySavvy, Global Test Market, Quest Mindshare, Univox, Executive Opinion, Opinion World and other platforms you see online aren't worth your time. The Panel Station is just another big-time waster that makes us take part in time-consuming surveys for a grand cash prize or else, tiny bits of points.
Paid Survey Sites in Nigeria By Nigerians
There are lots of vendors and companies in Nigeria that may need the opinion of customers in the future. So while you stay in your search for genuine ways to make money in Nigeria, hope that an indigenous survey that targets Nigerians will emerge.
Paid surveys in Africa at large may not be worthwhile in the long run.