The way we think go a long way in determining the level of success we desire to attain. It's only natural to want a successful life despite the negativity surrounding our thoughts. Being a more positive person goes beyond setting achievable goals. You can have a straightforward plan and still do nothing because there is an underlying issue, your mindset.
It's essential to have your goals spelt out with actionable tasks, but you need thoughts that are in agreement with your desire. If you have little or no positivity in your reflections, you will do nothing but watch your dreams go down the drain.
Although you can hardly control your thoughts, you should be able to school yourself to develop a more positive mindset. You can strive to reduce the negativity and increase the positive voices in your head. The voice saying "you can't do it" can be tamed, managed, and overtime shutted down totally.
You'll start by becoming aware of what you tell yourself and reduce how you repeatedly think of the negatives. You'll replace this with positives to the barest minimum using daily positive affirmations.
Study the Negative thoughts in your head
We're humans and it's expected that we face challenges which we sometimes have no power over. In times like this, it's easy to attribute uncertainties to ill luck. The habit of blaming every unpleasant incident of bad luck only explains how negative you are. Seeing just anything in its unfortunate form reveals your clouded mindset.
This will not work – before you even try!
I know I will fail – you don't know that! (Perhaps you do.)
Can people be this nice to me? First, change your circle.
Why does this have to happen to me alone – you don't know that!
I am unlucky – No, you're not.
What are Positive Affirmations?
Positive Affirmations are statements people say to stay encouraged. They are underrated sayings that do more than just distance our minds from negativity but help us to cleanse our thoughts and encourage more positive voices.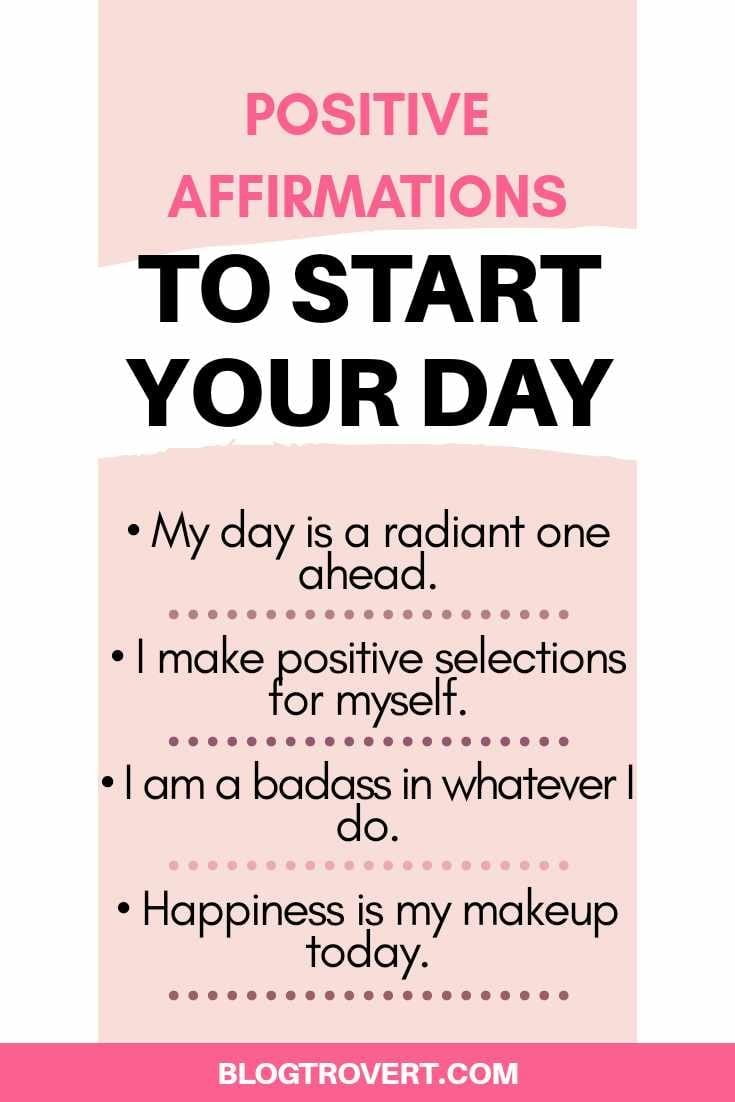 30 Powerful Daily Affirmations for a positive mindset
Below are 30 powerful affirmations that will help switch up your thoughts to positivities.
I am who I think I am (my first contact with affirmations).
I am not unlucky; it's just another life challenge.
My day is a radiant one ahead.
I make positive selections for myself.
I am a badass in whatever I do.
Happiness is my makeup today.
I'll choose my words wisely.
No challenge deserves to put a frown on my face.
I own a creative mind that aims for greatness.
I am optimistic in my ability and attempts.
All is well (famous affirmation from "3 idiots").
I am defeating my fears and failures.
My day starts and ends with positivity.
I believe in my potential and honourable trials.
My honest mistakes are out to teach me outstanding lessons.
I am developing good habits every day.
I have authority over negative thoughts.
I'm not the failure that never tried.
My endeavours are lessons until they lead to success.
I think logically before I take actions.
My life is filled with amazing folks.
I am my only rival.
My fears cannot control my thoughts.
I control my emotions.
Today is a great day already.
I am patient with others.
My worries can't fix an unchangeable situation.
I believe in my ability and strength.
I choose to be positive.
I am confident in myself.
As you've seen above, our thoughts constitute a more significant part of our walk to success and happiness. You must find ways to improve your mindset, so you don't risk falling into negative thoughts that go further to hold your back.